Originally Posted by Daily Democrat.
The smell of drying paint in the air, coupled with the sound of music blasting from speakers on a tame summer morning, signaled the start of a new school year over at Woodland High School as the campus hosted members of the Class of 2024 for the school's annual "Senior Paint Day."
On Friday morning, starting at around 7 a.m. and running until noon, dozens of incoming high school seniors filled the student parking lot to paint up a square on the sidewalk leading into the football stadium.
"This is just a good fun way to get seniors to get really amped up about their senior year," said Woodland High School Athletic Director and senior advisor Danny Eoff. "In a small town like this, a lot of these kids have been together since kindergarten. We let them enjoy all the hard work over the past few years."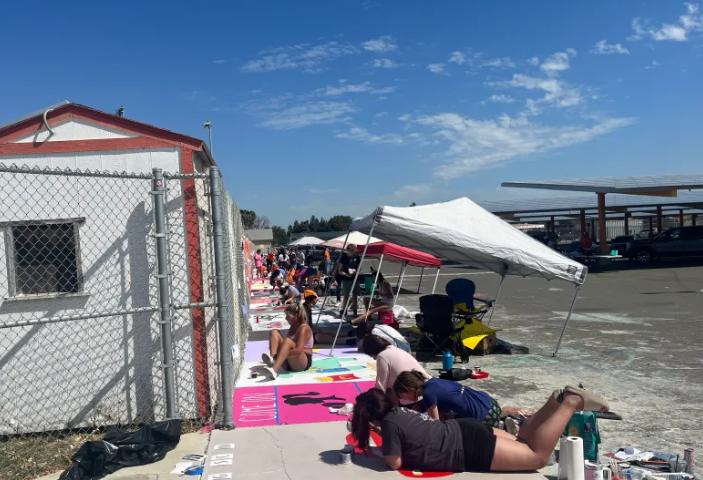 Lawn chairs, shade tents, portable speakers and paint brushes were the only supplies seniors needed to take part in the traditional event that goes back decades, signifying the start of a new but final year of high school.
A raffle process allocated students with a square, allowing them to paint or draw anything meaningful or fun they wanted, while Boss Cafe provided coffee and snacks.
Senior class President Brooklyn Johnson was in attendance.
"I'm really excited for my senior year," Johnson said. "It's really special, but at the same time, today is sort of a big last hoorah. I had a lot of fun today but it is so crazy to be a senior now and feel old."
Johnson opted to share her square with Italian foreign exchange student Alice Corbari. Their collaboration consisted of a tiny plane connecting a hybrid American and Italian Flag. Senior wrestler Arleen Perez painted a miniature wrestling mat. Other senior student-athletes on hand decorated their squares with sports-themed drawings.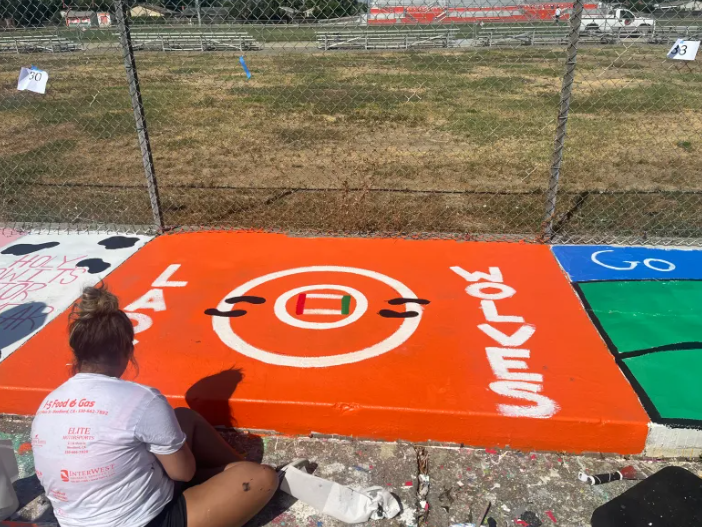 "Today is something the kids really look forward to as underclassmen to make their mark on campus to kick off their senior year," Eoff said. "I graduated in 1997, and I was excited to paint my square then, so the tradition has been going on for a long time."
Woodland High School and the rest of the Woodland Joint Unified School District are set to begin the 2023-24 school year this Monday, Aug. 14.
As per another tradition, the Woodland High School seniors will meet up on the football field with blankets and chairs Monday at 6 a.m. for the "Senior Sunrise," signifying the start of the year. The same seniors will hold a "Senior Sunset" in June before they graduate to close out their year.
"This is another one of the activities and traditions that give the seniors some recognition and allow them to enjoy all the hard work they have put in and the memories they have made with their peers and teachers," Eoff said.
Related: How Studying Abroad In High School Can Unlock Future Opportunity
This success story shows how powerful student exchange programs can be, and how students and host families can benefit. International Student Exchange is dedicated to bringing the world closer together.
If you would like to help an exchange students dreams come true, we invite you to read more about hosting a foreign exchange student. If you have specific questions about hosting, check out our host family FAQ page. You can also read testimonials from our past and current host families. When you feel ready, complete our host family interest form and our area representative will get in touch with you.
You can also get involved by joining our team of Area Representatives! Help match host families and exchange students and bring the world closer together, while making a supplemental income.