Host Family Testimonials
Curious to learn more about what being a host family with ISE is like? Read International Student Exchange host family testimonials and reviews below. 
Have you hosted an international student with ISE?
We would love for you to submit your own testimonial and share how our cultural exchange program impacted your life, family, and community!
Becoming a Host Family Has Been A Joy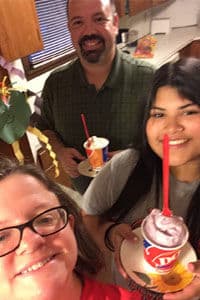 This was our first experience hosting an exchange student and I was a little nervous because we live in a very small town in Rural Kansas. Would there be enough for her to do? Would she get bored? However, the moment Maria stepped into our lives, she took our family and our small town by storm. She fit right into our lives and she was always happy to share with us about her life in Germany. We spent many mealtimes just talking and enjoying her company. A favorite thing we would do is "Family Night" where we would often order a pizza and watch a movie together. Remember how I said I was worried she would get bored? She was a flurry of activity. She had a wonderfully positive attitude and tried choir, tennis, track, and art-just to name a few activities she was involved with. She made many friends at the school she attended. Several of her classmates told me what an impact she had on their lives. She was a joy to have in our family and in our community. Your life will be greatly enriched through hosting an exchange student. Ours certainly was!
Jodi & Tim