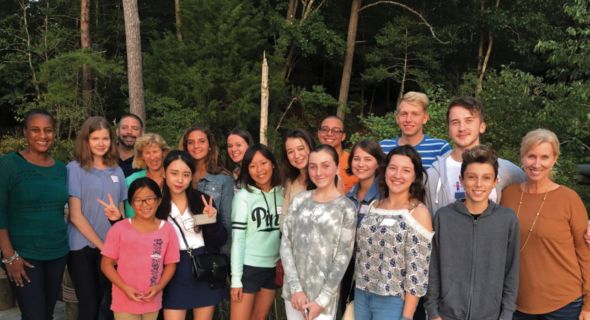 Make a Difference
BECOME AN AREA REP
ISE Area Representatives are community-minded individuals who help secure placements in their local high schools for exchange students, recruit host families in their communities, and provide support and guidance throughout the year.
As an Area Representative, you enable the people in your community to make friends from all over the world while changing the lives of our students forever. Each and every representative has the power to make a lasting, positive influence – whether you recruit one host family or one hundred.
Read the story of Chris Van Alstine from Green Bay, Wisconsin, and how she won "Rep of the Year"!
Get Involved!
Enrich your community and help bring the people of the world closer together. Nationwide Opportunities Available.
Join The Area Representatives in Your State
International Student Exchange has Area Representatives working in all 50 states, operating out of over 40 regional offices. Find your nearest office and join the team today!
Read Sarah Stanford's amazing story on going from host mom, to area representative, to manager of the Bayou region in Louisiana.
Work from Home
Explore the World
By matching exchange students with volunteer host families in their communities, Area Representatives can earn spots for themselves, friends, and family on our annual Celebration of Success trip – a vacation to some of the world's most exciting destinations. Past destinations have included Ireland, Argentina, Germany, Spain, England, and many more!
This year we will all  be meeting in Amsterdam – "Venice of the North". We hope to see you there!
Area Representative Blog
Read more about the experiences of Area Representatives across the country.
Frequently Asked Questions
Here are some of our most asked questions. Be sure to read our full Area Representative FAQ to learn more
The Area Representative role is done from home and out in your local community. Reps attend local events and arrange activities to promote ISE cultural exchange at their convenience. When supervising an exchange student, reps are required to make bi-monthly in-person visits to each student while maintaining phone contact at least once every month. The position is flexible and can range from a few hours per week to a totally new lifestyle – you decide!
Area Representatives are independent contractors who receive payment each time they successfully place a foreign exchange student with a volunteer family. They also receive payment at key supervision check points throughout a program. Many bonus opportunities are also made available throughout the year.
Area Representatives who recruit 7 approved volunteer families can also earn a spot on our annual Celebration of Success incentive trip. This is an international trip provided by ISE to reward the hard work and dedication shown by our reps throughout the program season. Trip locations have included Ireland, Spain, England, Argentina, and many other beautiful international destinations. Recruit additional families to earn spots on the trip for family and friends!
All applicants must live and be authorized to work in the United States and have:
A valid US driver's license
Internet connection
Ability to pass a Criminal Background Check
Become Department of State Certified
Reliable transportation
HOST A STUDENT
Global friendship starts with local action. Volunteer to host a student today!
JOIN OUR TEAM
Change the world, one family at a time. Apply to become an ISE Area Representative!
STUDY ABROAD
Explore a new culture and experience a new way of life. Become an exchange student!