When it comes to educating the leaders of tomorrow, reinforcing the value of service and volunteerism is incredibly important. For our high school exchange students, volunteering is not simply about checking off a program requirement. It's about personal development, giving back to the hosting community, and building meaningful and lasting connections.
Related: Project Help: The Importance of Volunteering 
About the ISE and Habitat for Humanity Collaboration
As a part of ISE's Project HELP Initiative, our exchange students are required to participate in acts of community service during their time in the United States. For one recent project, Nikola Husárová (Slovakia), Pablo Goudel Tavares (Brazil), Mauricio Grado Sanchez (Mexico), Anna Sarah Demetz (Italy), and Martin Echevarria Amerigo (Spain) volunteered with Habitat for Humanity in Jacksonville, Florida. HabiJax, as it's referred to locally, is one of the largest non-profit affordable housing builders in the community. It provides homeownership opportunities and housing services to families in need of assistance.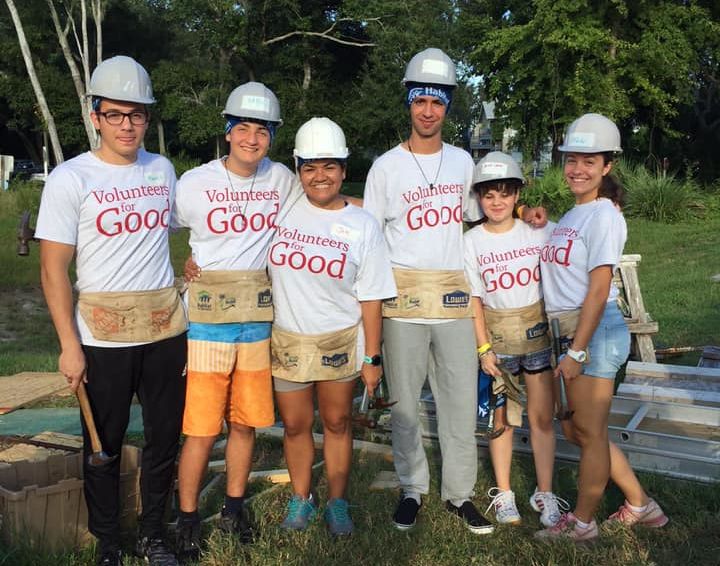 This project was spearheaded by Martin's host mom, Jen Schreiber, a passionate volunteer herself. We spoke with Jen to learn more about the event and the effect it had on the students and the community. 
1.) What motivated you to volunteer to host a student?
Honestly, it wasn't something I had ever thought of.  I grew up in a small town in a rural area. We never had exchange students, so I didn't know any better.  Being a military family we move often. 
In 2007, my neighbor in Texas had an exchange student from Switzerland who she hosted when he was 16. 15 years later as an adult he still comes to visit her multiple times a year.  I thought "what a fantastic thing" and was a bit jealous of their bond. It was so genuine. Our family ended up bonding with him too, and he recently came to visit us in Florida with his fiancé.  
When the opportunity to host an exchange student arose last year, my husband actually suggested it. He was getting ready to go to the Middle East for a long military deployment and thought it would be good for my son to have someone else in the home. I really think he wanted to keep me preoccupied.  I'm happy that we did it! It was nerve-racking to take on something like this but when our exchange student arrived it was a perfect fit.  
2.) What do you think the biggest benefits of volunteer action are, and why do you think volunteering is important?
I currently manage the volunteer program for our office.  I'm a huge advocate for volunteering. Many times we believe we are too busy or there just isn't enough time. That's just not true.  Volunteering gives you and endorphins. That feel-good feeling that you did something for someone else.  
Personally, I think volunteering is important because it allows people to bond.  When we are in the digital world of "face down" in our phones, it forces you to interact with others.  
3.) Why did you choose to get your exchange students involved with Habitat for Humanity (HabiJax)?
Habitat for Humanity is a great organization.  It helps lower-income families purchase homes at a reduced cost.  What I like about this organization is that homeowners must also commit to sweat-equity hours to earn those homes.  It's a physical job and when you have children ages 16 and over it's perfect because they are full of energy! 
4.) What did the students do during the event?
Every HabiJax event is different since it depends on the stage of the home they are currently working on. For this event, we were assisting in building the interior walls.  We were framing and it was lots of nailing and swinging hammers! 
5.) Did you notice any effect on the students as a result of volunteering at the event?
Following the event, we all had lunch together.  They were exhausted, sweaty, and stinky but the conversation at the table pertaining to volunteering was so genuine.  They were very thankful and we discussed volunteering events they had done (or not done) in the past. The exchange students had a glow about them and were happy to have done their part!  They were even asking when the next event was planned!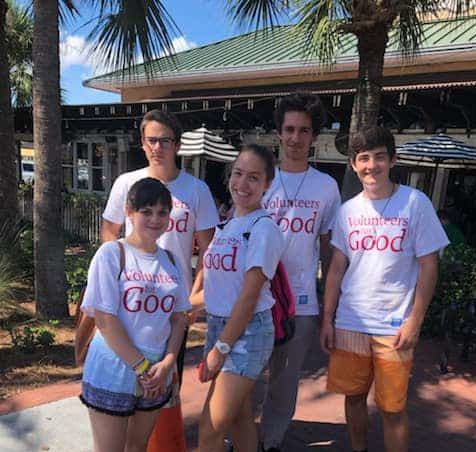 If you would like to help an exchange student's dreams come true, we invite you to read more about hosting a foreign exchange student. If you have specific questions about hosting, check out our host family FAQ page. You can also read testimonials from our past and current host families. When you feel ready, complete our host family interest form and our area representative will get in touch with you.
You can also get involved by joining our team of Area Representatives! Help match host families and exchange students and bring the world closer together, while making a supplemental income.