(2020). Hi my name is Emma Carr! I am from the US and I am currently on a high school exchange in Spain. I have been here in Spain for a little over 1 month! Because of the current pandemic in the world right now, getting here was not an easy task. However, I was patient and now I am finally living my dream.
Attending School in Spain
I was most nervous for school. I ended up arriving in Spain on a Sunday afternoon with the expectation that I would start school the following day. Oh boy! That first day was a blur for me as it was my first full day in Spain. My host brother walked me to school. We ended up getting to school super early and we had to wait for what seemed like hours, but it was most likely one hour for the school to open. Then I picked my classes. I remember pointing to the ones I wanted because I could not speak from the nerves. I picked a Greek class and a Latin class which I ended up changing to Economics and Math because the Greek and Latin classes were the second level and I was so confused. The other classes I chose were Art History and Psychology. In total I take eight classes: Art History, Spanish History, Language and Literature, Economics, Geography, Psychology, English, and Math. Then I walked into my first class of the day. Luckily everyone was super nice (and still is nice now) and willing to help me and show me around. I basically followed the students around from class to class. Like I said before it was a blur.
School was a big culture shock for me. The Spanish school system is very different compared to the US system. Here the students pick either a science based path or a humanities based path (I chose Humanities). In the US you can pick from any subject. For example I took science classes with art classes and social studies classes. Here in Spain the schools don't serve lunch. We have a break where students and teachers leave to go eat. They can go home, to a cafe, or to the supermarket to buy a quick snack. For lunch I sit with some friends outside the school and just talk. A few times we would go to a store or the supermarket if someone needed something. In the US schools have a lunch break and kids are not allowed to leave the building without permission from a parent. Another big shock was the fact that some kids openly smoke during the break or before and after school. It is very strange seeing my peers smoke since in the US smoking is pretty frowned upon and also illegal for kids.
My favorite things about school in Spain
One of my favorite memories from school happened just this last week. I live in the North of Spain, but not near the mountains, so snow is a rare thing in my town. This past Wednesday it was raining in the morning, but by eleven o'clock the rain had turned into snow. The kids at school went wild! They were so excited to see snow and told me how rare it was here. I was really happy to see snow because I love snow, but I loved the reactions of the kids even more. During the break people were throwing snow at each other and taking pictures. It was really cool. Sadly the snow melted as soon as it stopped snowing.
.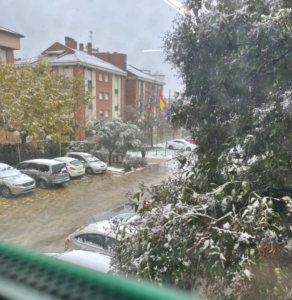 We invite you to read more about becoming an exchange student and our study abroad programs. To find out even more about different available options, complete our Travel & Study Abroad interest form and our program coordinator will get in touch with you as soon as possible.
Please note that ISE now offers study abroad scholarships to our host families' kids. Check out our host family section of the website to learn more about other benefits of hosting an exchange student.