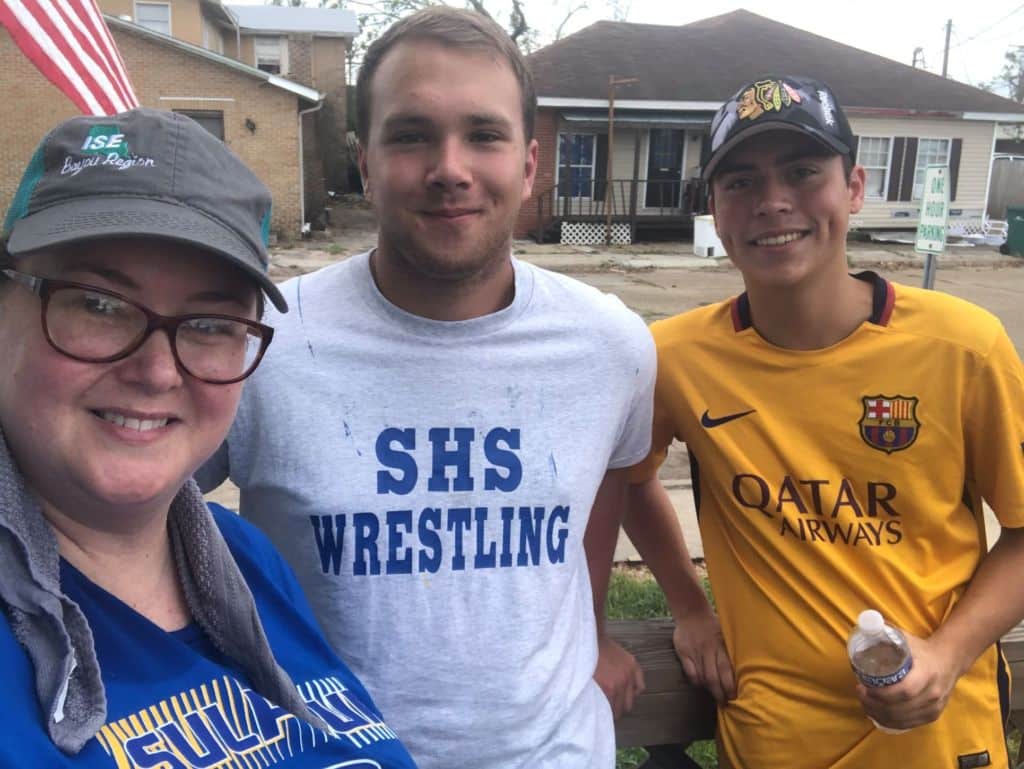 Overcoming the Challenges of COVID19 
Jan, from Slovakia, and Anug, from Belgium, knew that their 2020 high school exchange program in America was going to be very different from exchanges in the past. With the complications caused by the COVID19 pandemic, it was a tremendous feat just to make it to the U.S. in time for the program. This was their last chance. They would both age out of the program after this year, so they were determined to make it work.
Little did they know at the time, COVID19 would not be the only challenge these boys would face during their exchange program. Soon, they would experience the devastation of Hurricane Laura in their host community of Sulfur, Lousiana.
"I really want to do an exchange year in the U.S.A because I want to learn better English and I love the country! During the last summer holiday, I went to Chicago with my mother. A family member lives there. I was really impressed by the buildings and the American way of life! I love the idea to be hosted by an American family. I find it more rewarding because they know the country and I believe that I will learn more as if I went alone. I'm excited to live a year in an American high school. " – Anug, Belgium
"I come from a small country, Slovakia. It is said that Slovakia is the heart of Europe. We have beautiful mountains called the High Tatras. Everybody there is nice to other people mainly to tourists.  I like my country and wish to share its culture on exchange. I would like to get to know the U.S. cultures and experience traditional American family life and everything that relates to the US. I will be very happy to live with my host family and I believe we will share the best moments!" – Jan, Slovakia
Both boys were sponsored by International Student Exchange on a J-1 Secondary School Visa.  They were placed with a volunteer host family in Lousiana. That family would treat them as a member  while they experienced life in the U.S.A. for the next 10 months.
Persevering Through Hurricane Laura
After their arrival, Jan and Anug bonded during their 14-day quarantine. Their shared anticipation to become members of their host community made it all the more exciting. Especially when they were released and able to tour their new school. They both joined the soccer team and counted the days until the first day of classes. 
Unfortunately, quarantine would not be the only challenge these boys would face during their exchange program. Just five days after Jan and Anug's quarantine ended, they were forced to evacuate their home in Sulfur, Lousiana due to Hurricane Laura.
By the time Hurricane Laura made landfall it was a deadly and damaging Category 4. That was a hurricane that tied the 1856 record for the strongest hurricane to make landfall in Louisiana. Looking around the boy's host community, you would be hard-pressed to find a home without any damage. 
In Laura's wake, schools in the boys' community were left severely damaged and unable to open. Power outages were widespread with restoration weeks away. People throughout the effected areas were without clean water and food.
Seeing the devastation on the community, Jan and Anug decided to use the same tenacity that got them to the U.S.  They decided to  help the affected people in their host town. They selflessly worked alongside community members to sustain the grassroots #FeedSulphur initiative. Those involved with #FeedSulphur got together with local individuals, families, and businesses to provide food and resources for people in need. The boys provided much needed and much appreciated help. The experience only strengthened their bond to both each other and their American host community.
Staying Together After Hurricane Laura
Because the boys are in the U.S. on a J-1 visa program, they must be enrolled in a full course of study. Despite their attachment to the Sulphur community, this requirement meant that they would need to be moved to a different school. Unfortunately in these circumstances, students are often split up out of necessity. Jan and Anug prepared to say an early and difficult goodbye.
However, luckily for Jan and Anug, members of ISE's field staff were able to secure a new school and host family placement.  Fortunately that placement allowed them to remain together!  ISE was moved by the bond and dedication to service of these students in the face of such adversity.
Both boys are now continuing their American exchange, living with a new volunteer host family in Ohio. We wish them all the best for the remainder of their program!
How You Can Help
Large areas of Lousiana are still hurting terribly after the storm. Combined with the ongoing COVID19 pandemic, many individuals and families find themselves without the resources for food and basic necessities. If you would like to help in the Hurricane Laura disaster relief, please visit https://ready.nola.gov/incident/tropical-storm-laura/donations/   
You can donate to the local Lousiana chapter of United Way here. 
Read more about ISE's community involvement!
Interested in Hosting a Student?
We invite you to read more about hosting a foreign exchange student. If you have specific questions about hosting, check out our host family FAQ page. You can also read testimonials from our past and current host families. When you feel ready, complete our host family interest form, and our area representative will get in touch with you.
You can also get involved by joining our team of Area Representatives! Help match host families and exchange students and bring the world closer together, while making a supplemental income.