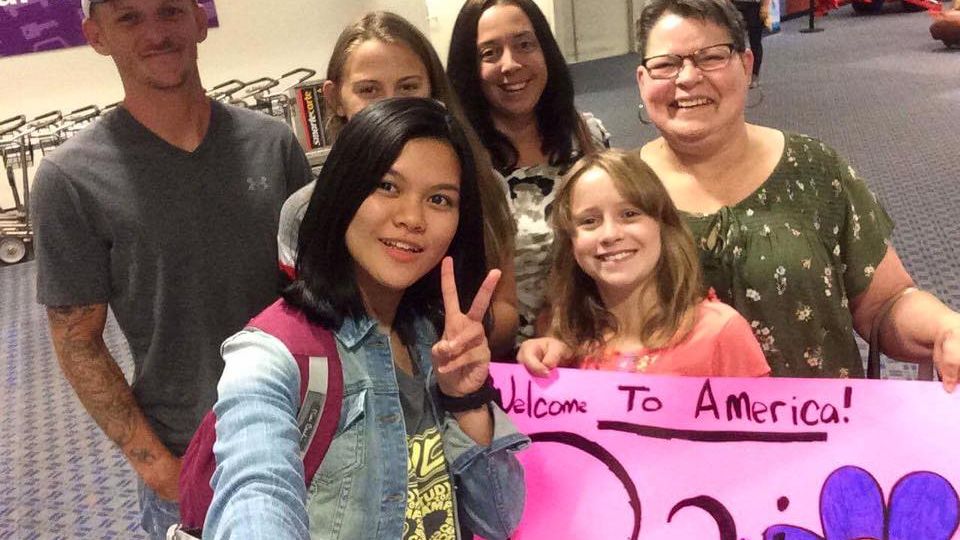 Two short weeks ago, a friend, Shena, who is an  area representative for the International Student Exchange, messaged me asking, "I have a weird question for you, but have you ever thought about being a host family for an International Student Exchange (ISE) student?"
I was very interested, but I knew that opening up our home would have to be a decision that my husband and I made together. I texted my husband, and his answer was "maybe" (mainly because he needed more information). Shena told me about Donny, a 17-year-old boy from Vietnam, and how he was in need of a Host Welcome Family.
That night my husband and I talked it over. We weighed the pros and cons, considered how our life would be different (especially with two kids under the age of four), and ultimately decided to give it a go!
If you have ever considering hosting an exchange student, here are some details about what to expect, as well as some helpful tips and information to keep in mind leading up to the first day he or she arrives in your home.
The Screening Process
Once we said yes, we had to go through a screening process that was relatively easy. We were asked to provide a lot of photos of our home — including the faucet in the kitchen and the toilet in the bathroom!
We were also asked to fill out a profile and provide four references who had visited us in our home who we had known for at least one year and who were not relatives. It was similar to filling out a resume for a job.
Then, our representative asked us to provide even more photos — so I ran through the house at 11 p.m. in a bathrobe taking photos of everything missed on the first run through and sent them to her in a Facebook message.
We were finally approved a few days later, and two days after that our student, Donny, arrived.
Related: Tips for The Host Family – Preparing for Your Exchange Students Arrival
Picking Up at the Airport – It's Harder Than You Think!
We took two cars to the airport, since I didn't have the chance to jockey two car seats around to fit him and the entire family in one car yet.
Columbia Metropolitan Airport (CAE) has free parking for the first 20 minutes, so after meeting up with Donny and taking a quick photo of our new "family," I sent my husband and daughter home while I waited with Donny for his luggage. It took 40 minutes for the luggage to be unloaded from the airplane!
During this time, we talked. Donny's English is very good, however, there were some things I needed to reword so that he could better understand. At times, I have felt like a human thesaurus, but I think that's a good thing and a challenge I am embracing. I am also learning to speak more clearly and talk slower.
Arriving "Home"
The first hour after we arrived home was spent showing Donny where things are in the house.
Then we went about our normal activities which included going to church that evening. I sing in the choir, so Donny sat with my husband, Jonathan, and two kids, Lucie and Asher. He held Asher the entire mass, and I have never seen my children behave so well!
After church we came home, and Jonathan started to cook dinner. Donny volunteered to help, and we had a wonderful meal of hamburgers, hot dogs, and french fries.
Things I Have Learned in My Short Time Hosting an Exchange Student
I have noticed several great characteristics from Donny that I, and the rest of my family, should implement in our own lives:
Gratitude – He is extremely polite and says "please" and "thank you" every single time it is appropriate. Every. Single. Time.
Helpfulness – He doesn't wait for us to ask him to do something. He readily volunteers.
Manners – He waits for everyone to be seated at the dinner table before beginning to eat. He opens and closes the car door for me. Yes, these are little things, but many of us have lost touch with how meaningful these gestures can be.
We invite you to read more about hosting a foreign exchange student. If you have specific questions about hosting, check out our host family FAQ page. You can also read testimonials from our past and current host families. When you feel ready, complete our host family interest form and our area representative will get in touch with you.
You can also get involved by joining our team of Area Representatives! Help match host families and exchange students and bring the world closer together, while making a supplemental income.
Read the Host Family Handbook to learn more!
By: Barbara Reggio