Esther Williams is an area representative in northern California. She is a stay-at-home mom of five. She is also a former exchange student who, just after high school, spent a year in Hiroshima, Japan.
"I had lots of fond memories, and I was thinking a lot about my time there, and how I missed it so much," she said.
Then, during a girls' night out, Williams voiced her desire to find a job that would allow her to avoid mundane office hours and work from home, spending more time with her kids. One of her friends, another mom, is also an area representative for ISE. She suggested that Williams join up.
Initially, Williams was hesitant. How would she find host families? And what about linking those families with students?
"I had so many questions, more than answers," she said.
After thinking it over, Williams interviewed for and eventually accepted an area representative job, finding that there was a great deal of help available to newcomers, thus making the learning curve as smooth as possible. Now, although she's been with ISE for less than a year (she started in October), it's a process that comes to Williams almost naturally.
"I'm given a bunch of students who are requesting to come to California," she said. "My job as an area representative is not only to find families, but to connect them with the schools."
Williams also checks in with her students each month, either in person or by phone, to ensure all is going well. But she doesn't stop there.
"I figured I'm not going to get to know these students if I don't get involved," she said. "I wanted to take them somewhere in our state. When I was in Japan, I wasn't allowed to travel by myself. I loved to explore, I wanted to see more things, but I couldn't. So I wanted to give back and show them our state."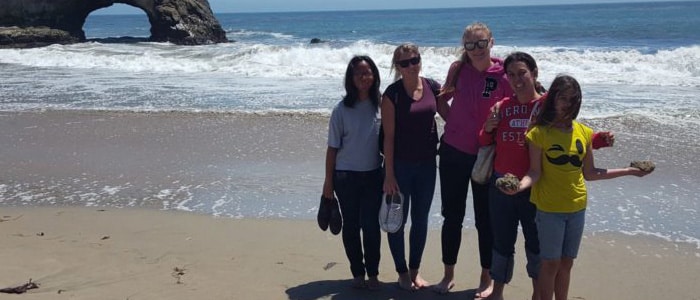 Because host families work for free — and often hold full-time jobs — they aren't always able to spend as much time traveling with their students as the students might like. This is where Williams comes in, planning visits to popular destinations around California, loading kids in her twelve-seat van, and heading out.
"Parts of California are really different," she said. "This way, they get to see more of it, rather than just the little hometown they're living in."
Although Williams takes charge of the logistics, she also makes sure to include the students in the planning.
"I ask them what they want to do," she said. "I didn't want to take them to a place they'd already been."
Yosemite National Park, swing dancing in Sacramento, Natural Bridges State Beach in Santa Cruz — Williams has indeed put mileage on her van, driving upwards of five hours, one-way, to let her students experience a bit of America beyond the town or city in which they have been placed.
"I don't think my students realize how far the drives [can be]," she said, laughing. "They didn't complain or anything, but they wished they could have stayed longer. This was my first time doing this, so I wasn't sure what to expect. If I was to go to Yosemite again, I would stay overnight."
Williams' own children, too, benefit from these trips — more specifically from their interactions with students from different backgrounds, nationalities, and cultures. They're getting all the benefits of traveling abroad, she said, without doing the actual traveling.
"They enjoy it, they ask questions. I like to take them with me. They ask tons of funny questions. They're learning a lot from the students. It's good for them to see what students from other countries are like."
With her day trips, Williams also looks to the future of the ISE program. If a student returns to their country with a good attitude and fun stories to tell family and friends, she said, ISE benefits. So does the United States as a whole.
"Getting [ISE's] name out there is really important to me," she said. "I would like to see ISE getting bigger. To be honest, there is so much negativity about our country. And yes, we have our problems, but I think we can do so much good for the United States by having exchange students come into amazing homes. I think we're a very giving country. There's just so many good things about us."