By Jaiden Barstad
I've been an exchange student in Madrid, Spain for almost 5 months now. My life has changed in so many ways I could have never imagined. My mind is filled with countless memories that I will never forget. Learning to live in a new country, with a new family, friends, language, and surroundings is something not many people get to experience, so I'm very grateful to get this opportunity.
Leaving everything and everyone back in the U.S.A. to come to a foreign country by myself was, to say the least, scary. But, also extremely exhilarating. The feeling of not knowing what lied ahead was something I'd never experienced before.
My last days leading up to my departure were filled with so many emotions. I was saying goodbye to all my close family and friends, knowing I wouldn't see them for 10 months, knowing I would miss out on everything at home. But, I also knew something great was ahead of me. A new chapter in my life.
On September 15, 2022, my mom and I got up early to go to the airport. So many thoughts were running through my head.
I flew out of PDX (Portland, OR, U.S.A.) and even though I had flown out of there many times before, this time I knew I wouldn't return for almost a year. After a long goodbye hug to my mom, I boarded the plane. There was no turning back.
Everything went smoothly. I had a layover in Texas which went well, I talked to a few strangers about what I was doing and where I was going. They all thought I was very brave for doing it, which gave me comfort.
Then, it was time to board my last flight to the airport of Madrid, Spain — my home for the next 10 months. My mind was racing with questions and wonders of what my life was going to be like there.
After a total of about 17 hours, I landed in a new country. I got in touch with my host family to see where they were. They said they were waiting for me just outside of baggage claim. I made my way through customs and all of that went pretty swiftly. I just had to grab my luggage.
After I had my stuff, I made my way out to my host family. My host mom, Lucía, and my host dad, Antonio, were waiting to greet me with a welcome sign. They were amazing from the start and so kind. They were impressed with my Spanish which was a nice compliment. I felt so welcome and felt like I belonged.
It was only about an hour ride to the small town I would now call home, Moralzarzal. Along the way, they pointed things out and showed me the natural beauty of Spain.
As soon as we made it home, my host mom helped me get my things to my new bedroom. She made sure I felt comfortable and that everything was in place. She had an idea of what it was like for me because one of her three sons was in the U.S.A. at the time doing the same thing as me.
Throughout the first few days, I was introduced to many new people. Including my two host brothers, Gonzalo and Rodrigo, as well as some of their friends. They showed me around town and we started getting all of my stuff prepared for school.
I was a little sick for the first week so that made things a little difficult, but overall the start of my time in Spain was absolutely amazing. I knew I made the right choice to go.
HIGH SCHOOL IN SPAIN
Coming from my high school in the U.S.A., I didn't know what to expect. I had little-to-no knowledge of what the education system was like here.
My first day, I was introduced to my class and my classmates that I would spend the rest of the school year with. Everyone was super kind and willing to help with anything and everything I needed.
The first few weeks were good, I was just trying to figure everything out and adjust to all the new things. Most of all, I was adjusting to the language. Even though I spoke Spanish from the start, I definitely had to get used to speaking it all the time.
The education level is much higher in Spain than it is in the U.S.A. Therefore, it has been hard for me to study and do my work at the level of my classmates, but I'm trying my hardest and enjoying myself. I also know that any hard times I have, my friends and family here can help.
I go to the same school as two out of my three host brothers. Even though we don't have classes together, we always greet each other when we cross paths in the halls.
From being here the past 5 months, I can say that there are many differences between high school in the U.S.A. vs. here in Spain. Classes are shorter here, there are more tests, the students are more open, the subjects are different, etc. It's hard to say which I prefer. Just the same, I love it here.
I am able to participate in all of the school activities and excursions which makes me enjoy my time even further.
My host family consists of my host mom, host dad, and three host brothers. I truly couldn't have asked for a better host family. They are all immensely friendly and have been nothing but welcoming.
Over the months, my host brothers and I have connected more. I come from a home of three sisters, so having the opposite has been quite a change. Nonetheless, I enjoy my time with them. My second day here, one of them asked if I wanted to go out with him and his friends, that made me feel very welcomed. I went and we had a really fun time. All of us are around the same age so we can relate to things more. We find ourselves making jokes and laughing together. I have grown to really care for them and we will definitely stay in touch.
My host mom has been the most amazing of all. She always makes sure I'm cared for and that I have everything I need. I'm treated like one of her own kids. She is a stay-at-home mom, so I spend a lot of time with her. Whenever she is going to do something outside the house, I'm almost always invited. I enjoy the time with her and she is now like a second mom to me.
My host dad has also been great. He works a lot throughout the week, so I see him less than everyone else, but we are still able to connect and get to know each other. He treats me like his own daughter and has a very caring personality. He helps me practice my Spanish by having me tell him things about my day (or my life back home).
Every day we all sit down and have lunch together, this allows us all to talk about how we are and connect even further. I am learning so much about Spain from them and they are learning many things about the U.S.A. from me.
Not only do I have them as a part of my new family here, but I have been introduced to many other people in their family. Once again, everyone is tremendously kind. They all treat me like I have been a part of their family forever.
I have traveled a little bit throughout Spain with my family, and it's been eye-opening to see how much natural beauty Spain has, as well as all of the marvelous structures.
It will be hard to leave them all when I go back, but I know that we will stay in touch and that I will come back to visit them when I can.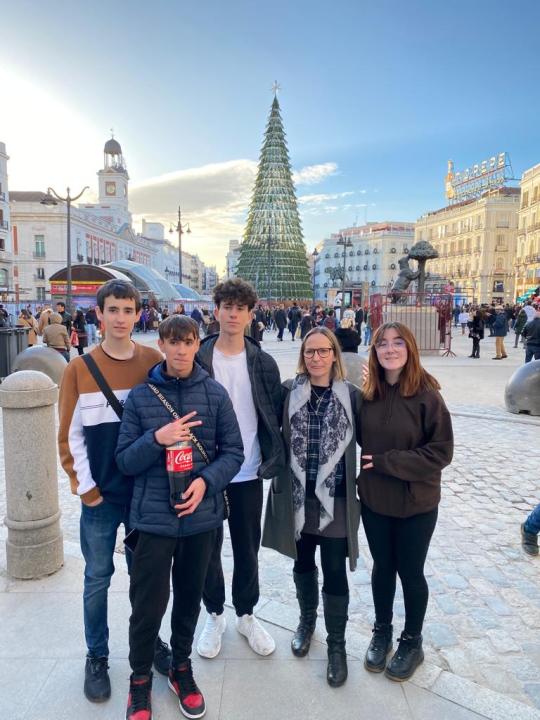 FRIENDS
Making friends here has been a lot easier than I thought it would be. From my first day at school, people were wanting to befriend me and let me into their friend group. My first week, there was a town fair and I went with my new friends and had so much fun.
I have a few different friend groups and I love them all. Having people I can connect with makes being away from home a million times easier. They help me improve my Spanish and teach me many things about life in Spain.
Since I live in a smaller town, I'm able to go out with my friends a lot. We go out for walks, go to basketball games, go out for dinner, go to the movies, go shopping, and so much more. I'm able to enjoy my time here to the fullest when I'm around them. I'm able to live the full experience as a teenage girl in Spain. I am nothing but grateful for them and this opportunity to be here.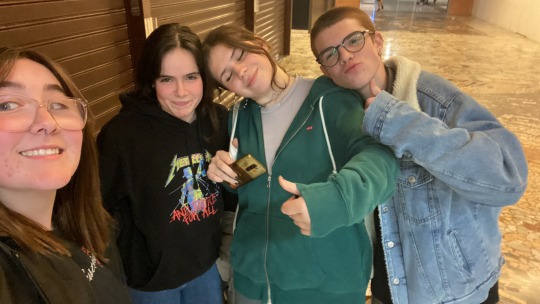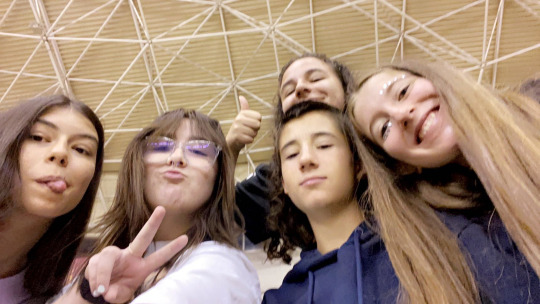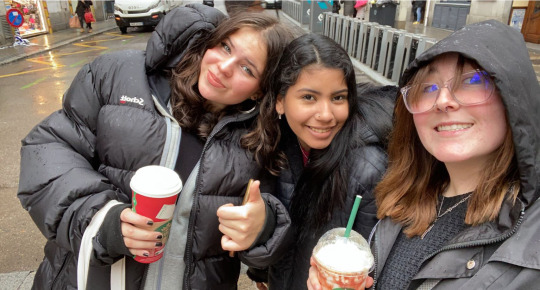 This has been my first holiday season away from my family. I missed them, but I was also very happy to experience holidays here.
I spent Halloween with my friends here, we dressed up and walked around town for a while. It was very fun to spend a holiday in my new home with people I have really grown to care for. It is celebrated a lot less here, but I was happy with any version of it.
I spent the majority of Christmas break with my host family and their extended family. Christmas Eve is very big here, they get a lot of family together and have a big dinner (its similar to how we celebrate Thanksgiving in the USA). We had octopus as a main dish, I personally don't like fish, but I tried some anyways. I didn't like it but it was interesting to see that it was a tradition here.
On Christmas morning, we all gather around the tree to see what presents there are. After opening them we spent the day together and enjoyed each other's company.
For New Year's, at midnight, here the tradition is to eat 12 grapes as the clock tolls for good luck. I had never heard of that or experienced it so it was fun to learn about it and do it.
On the 6th of January, they have Día de los Reyes Magos which is basically a second Christmas. It is also spent with family, and the day starts off with opening presents. Once again, I had never heard of that so it was great to learn about their traditions.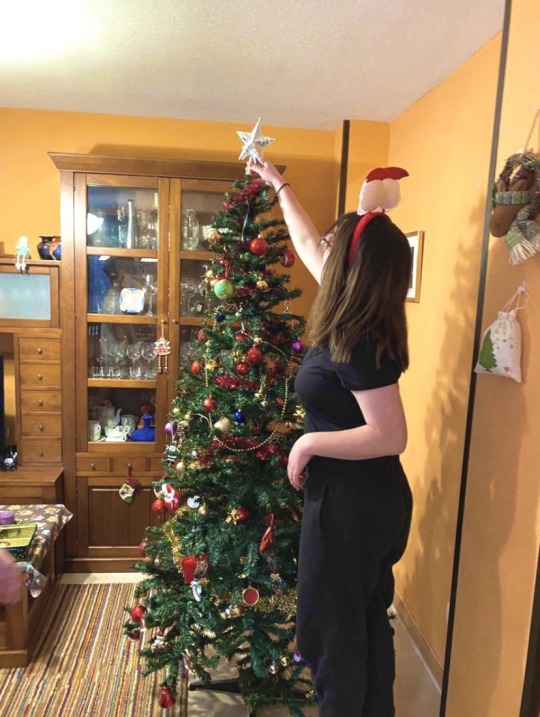 ME
Even though I have traveled by myself before, this is by far the longest and farthest I've gone from my family. I won't lie, it hasn't all been easy. Coming here has probably been one of the hardest things I have ever done. But I don't regret anything at all and I have grown tremendously as a person. I know I made the right choice to come here.
The beginning of my time here was the hardest, I experienced extreme home sickness. But all the people in my life, both here and in the US assured me it would get better and easier. They were right. I am now fully happy that I am here and wouldn't change a thing.
As a person, I've grown to be more independent and confident. I have so many experiences from being here that I never would have obtained from anywhere else. Going on an exchange year is something I would recommend to everyone.
If you would like to help an exchange student's dreams come true, we invite you to read more about hosting a foreign exchange student. If you have specific questions about hosting, check out our host family FAQ page. You can also read testimonials from our past and current host families. When you feel ready, complete our host family interest form and our area representative will get in touch with you.
You can also get involved by joining our team of Area Representatives! Help match host families and exchange students and bring the world closer together, while making a supplemental income.