(This interview was originally published on GoAbroad.com on January 19, 2023.)
(Joey Banuelos training his team in Sacramento, CA.)
(Joey Banuelos and his team during Regional Advisor training in New York City.)
Joey Banuelos has been involved in the J-1 international high school exchange business for 25 years. Joey's years of experience allows him to run a high quality and successful team that allows them to break down cultural barriers across the USA.

What inspired you to work for (ISE)?
As a teen, I grew up in a very small rural town in Northern California, and our high school had their first exchange student from Spain who lived down the street from me. We became friends and this opened up my mind to be more aware of life globally and I was able to visit Spain later that year.
This experience opened up opportunities that I never would have considered, which changed my life in a positive way. I have always been drawn to other cultures and my curiosity to learn about people's differences only grew stronger.
Knowing how important student exchange is, I wanted to help others have that same opportunity to learn about other cultures, change lives, and make our world a better place.
What is your favorite part of your job?
I enjoy working with the people that make student exchange possible, from our headquarter staff, to our managers across the country and our local area representatives. Plus, our volunteer host families are key to the success of our program along with the local high schools.
I also enjoy traveling around the USA and meeting all of these people—through this, I also get the opportunity to train and coach our field staff.
What advice would you tell your pre-travel self?
Take every opportunity that comes your way to leave your comfort zone. Do not put off taking that trip you have always wanted to take, find a way to make it happen.
Travel is important, and it can be a simple local or regional or state trip. The education and experiences you obtain from traveling are so valuable. Your life will change for the better.
Why should someone choose your organization over competitors?
ISE is at the forefront of technology, which is very important in exchange because of how we operate and how social media has changed how we advertise and communicate.
When working from home as a field representative, it's important to have a database that's user-friendly and attentive to your needs. At ISE, you won't find a cookie-cutter, third party database. Instead, you'll be working in a system that's completely custom-built by developers who are well-versed in the cultural exchange industry.
Within it, you'll find everything you need to get your job done. We also offer on-demand IT assistance if any issues or questions arise, and we are always improving the system based on user feedback. It is also very mobile-friendly!
Comprehensive training is crucial in our industry and we provide the best support in the industry.
It's our mission to provide each and every field staff member with the knowledge and resources they need to succeed. To accomplish this we've created an entire curriculum of easy-to-follow digital courses designed to guide you through the complete process of recruiting, placing, and supervising your students.
We also organize in-person field training events led by our staff at headquarters to encourage cooperation and consistency across the field.
What is your organization's mission and how do you continue to work toward it?
We believe that international exchange programs provide a distinct opportunity for personal growth and development, and strive to bring this experience to as many exchange students and host families as possible.
Through our exchange programs, we endeavor to educate tomorrow's leaders and enable them to become culturally-informed citizens of the world.
It is also our goal for the experience of exchange to bring the people of the world closer together and for the relationships created between exchange students, host families, and local communities to promote peaceful, cooperative international relations.
What qualities in program & host community relations are important to you? (And your organization?)
The main quality for both program and host community relations is the support that is provided. We have a dedicated full-time staff of facilitators that are here to support schools, host families, area representatives, international agents and managers.
Our staff of Program Managers support our national field to make sure that we are monitoring and helping everyone along the way.
What do you hope participants take away from your programs?
Our hope is that our host families will enrich their family, local high school, and community with new ideas and perspectives. Increase the mutual understanding between people of different cultures. We hope that our programs encourage peaceful relationships between the United States and other countries around the world.
We also hope that participants create meaningful friendships for themselves, their family, and the people in their communities. We aim to help educate the leaders of tomorrow so that they may develop into service-minded, well-rounded global citizens.
Why is it important for people to travel abroad and experience new cultures?
It is very important for people to travel abroad and experience new cultures because there is no better way to learn about others than meeting them in person. We can read about other countries or google a vast amount of information but it cannot replace actually visiting another country.
Over the decades technology has given us more opportunities to learn about each other, but this has not helped change our perceptions of other cultures—in fact I think it has made it worse. Experiencing another country, culture, and group of people face to face is the only way to really learn about them and understand that we are more alike than different.
What does meaningful travel mean to you?
Meaningful travel is impactful when you can take away something from it—that will change your perspective in how you see life. Traveling exposes you to different cultures, ways of life, food, etc.
Making new life-long friends and breaking down barriers from your visit is so important. Being able to share these experiences of the wonderful things you learned is also important.
(Pictured below: Joey Banuelos and his team during training in Arkansas.)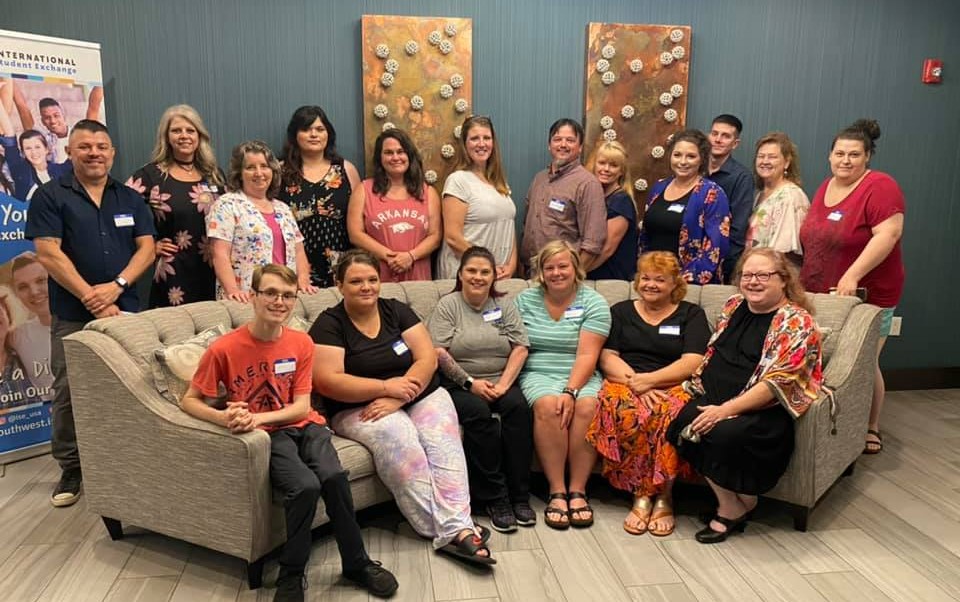 (Joey Banuelos and his team during training on Long Island, NY.)