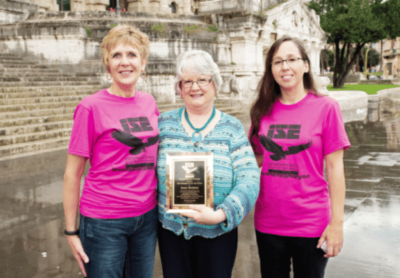 Babylon, NY – January 14th, 2014 – International Student Exchange (ISE), announced that Susan Mordenti, from Logansport, IN, won the ISE "Educator of the Year" award for her exceptional work. The announcement came at ISE's recent annual international conference.
ISE, a student exchange organization, places over 2,800 international high school students each year around the US. Susan is one of the educators that supports this process. She makes sure the students feel welcomed and help with any logistics such as forms, classes and basic assistance.
"She is somebody that goes above and beyond what's expected. She makes the kids feel comfortable and helps them to make sure they have a great experience," stated by Regional Manager Pauline Pipkins.
Susan attended Ball State University and Purdue University. She has 40 years in education, some as a Counselor and teacher. She has been involved in several organizations throughout the community including Tri Kappa Sorority and Delta Kappa Gamma. Susan has also won several awards including:
Tri-County High School – Teacher of the Month
Business and Professional Women – Monticello Young Career Woman of the Year
Business and Professional Women—District Young Career Woman of the Year
Outstanding Young Women of America
Susan won the award due to her outstanding contributions, dedication and excellence in working with International Student Exchange students.
We invite you to read more about what it is like to work with us. If you have specific questions about the area representative role, check out our Area Representative FAQ page. Still on the fence? Complete our Area Representative interest form and one of our regional managers will get in touch with you to answer your questions and to help you get started.
In addition to working in the student exchange industry, we like to encourage everyone to explore the option of becoming a volunteer host family to host an exchange student.