Ada, Minn.
On his first day ever playing American football, Ada-Borup (Minn.) junior Vitor Vac Bitu Alves watched as Ada-Borup-Norman County West kicker Colby Stevenson kicked a few extra points in practice. Stevenson told Vac Bitu Alves to give it a try. In tennis shoes, the foreign exchange student from Sao Paulo, Brazil, drilled two of three attempts with about 25 yards to spare.
Stevenson walked up to A-B-NCW coach Paul Tinjum and said, "He can have my spot."
"He kicked a couple extra points and just boomed them. We were like, 'All right, we got something here,'" Tinjum said. "He's been a huge asset for us. He's kicked a few field goals, he can control the ball on kickoffs and onside kick.
"Colby plays corner and wide receiver for us and is a very good kicker himself, but when Vitor kicks, the ball explodes off of his foot."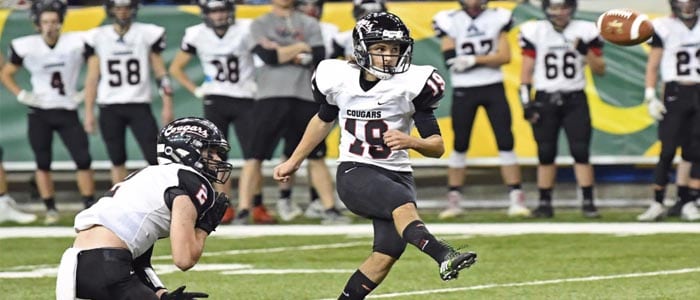 Vac Bitu Alves said his favorite thing about his time in the United States so far was when A-B-NCW won the section championship at the Fargodome last week. In that game, Vac Bitu Alves hit a 32-yard field goal, which was immediately followed by the Cougars recovering a perfect onside kick off his foot. He also hit all four extra points. He'll look for more memories in the Class 1A quarterfinals, as No. 7 A-B-NCW takes on No. 2 Braham at noon Saturday at Brainerd High School.
On his first day of high school in the United States, Vac Bitu Alves went to Ada-Borup athletic director Kelly Anderson and said he would like to try football. Sophomore tight end Mason Miller happened to be walking by Anderson's office, so Anderson told Miller to introduce Vac Bitu Alves to Tinjum.
The next day Anderson received a text message from assistant football coach Kenley Wahlin. The text said, "This kid can kick," and was a video of him kicking.
"He was kicking in practice and, uff da, we did not expect that. He was kicking 60-yarders like nothing." A-B-NCW senior running back Zach Pelzman said. "It's fun having him, but during practice we can't get lots of reps on kickoffs because he's kicking them way over our heads."
On the season, he's hit four field goals, two from 38 yards out, and hit 37 of his 39 extra-point attempts. He also routinely gives opposing teams no chance to return a kickoff, booting it into the end zone. His older brother was a foreign exchange student in Grayville, Ill., and he was a kicker on the high school team as well.
"It's very similar to kicking a soccer ball, so it's not that big of a difference," Vac Bitu Alves said. "I would say 45 (yards for a field goal) is something I can do normally, but 55, without any wind, it's difficult, but not that difficult. I can do that. Onside kicks is almost similar to passing in soccer. Just got to kick it with a different part of your foot."
In a season when Ada-Borup and Norman County West joined for the first time, it's fitting the acceptance Vac Bitu Alves has felt. Pelzman says he sits with him at lunch, and he's a fun guy, even if he confuses Pelzman when he puts everything from his lunch tray between bread and eats it at the same time.
"Everyone was really nice to me and helped a lot with everything," Vac Bitu Alves said. "There's a little bit of a difference in our way of being, but there's not that big of a difference between us."
We invite you to read more about hosting a foreign exchange student. If you have specific questions about hosting, check out our host family FAQ page. You can also read testimonials from our past and current host families. When you feel ready, complete our host family interest form and our area representative will get in touch with you.
You can also get involved by joining our team of Area Representatives! Help match host families and exchange students and bring the world closer together, while making a supplemental income.
Original post via inforum.com by Chris Murphy on Nov 7, 2017