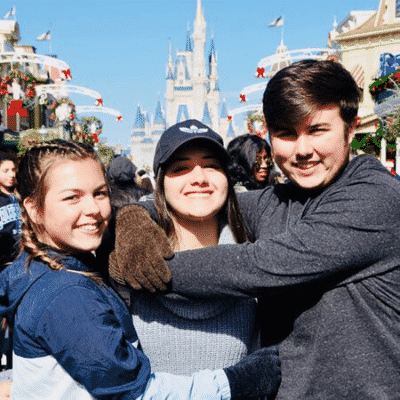 It's a very emotional time for many of our program participants around the world. Given the current Coronavirus pandemic, many students, host families, and friends are having to say goodbye much sooner than expected. While ISE hasn't mandated any students to return home, many have decided that it would be best for them to be with their natural families in their home countries given this unprecedented global crisis. 
We are thankful for those host families who continue to host throughout the current situation when travel was not possible, and our hearts are with those who had to make a difficult early separation for the health and safety of all involved.
With all that being said, we've been flooded with so many stories about the deep connections made between people from opposite ends of the world despite this year's shortened program. The mission of student exchange is to forge positive, lasting relationships around the world. We believe this was certainly accomplished thanks to this special class of students, hosts, and communities. 
We see this as a silver lining, and proof of the importance and lasting impact of cultural exchange. Below we've compiled a list of some favorite moments between host families, exchange students, and members of their community. 
Anton, from Denmark, was given a sweet send-off at the airport. With prom being canceled, his date decided to meet him at the airport in her dress to show him how much he meant to her before take-off.
"We were beyond blessed with Lucas from Brazil. This our first year hosting and we couldn't have gotten a better kid or had a better experience. It's hard to pick just one because we had so many. I think it's the many laughs we had together and all the craziness we shared. This is from the last Murray State home game. We turned him into a Racer while he was here." – The Ray's from West Kentucky. 
The Letherbarrow's, hosting in Colorado, had a great time exploring the ice caves with their exchange student, Paulina from Germany.
The Steins, hosting in Louisiana, with Mekk from Thailand at his first Mardi Gras!
"Kang, from Thailand, and Basile, from Belgium, in their soccer uniforms. We are from Huron, South Dakota and are so sad that the year has to abruptly end." – The Tamminen's
The Soltis family in Oklahoma with Eliana from Italy fishing in Destin Florida.
"We are the Murrows from Missouri and our student is Adela from the Czech Republic. She loved traveling to see different parts of America. Here she at the St. Louis Arch."
"Ian from Brazil had his soccer season cut short, but loved playing football for Loretto High School. Ian returned home this week to be with his family, but will always be an important part of ours. "Once a Mustang … Always a Mustang" – The Littrell Family, Tennesse
"Isabella, from Spain, had never done any acting before but she performed in 2 shows at her high school in Illinois!" – The Parrish Family
At this time, we still anticipate that a fresh, new '20-'21 season of student exchange awaits. Many students are waiting at home, eager for this to pass so that they can study abroad and experience a new way of life. For those interested in becoming part of this process next year, we encourage you to sign up to host. And to everyone who may be struggling with unexpected departures…remember, it's not "goodbye", it's "see you later." We'll all get through this together.