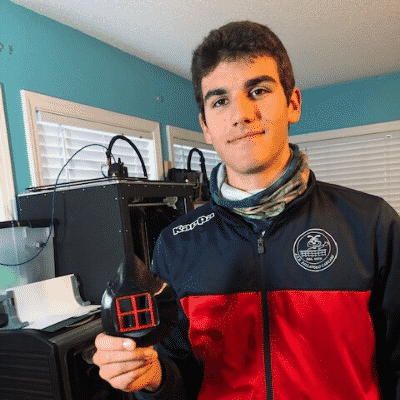 With the spread of the Coronavirus and the COVID-19 outbreak, it can be tough to see the light at the end of the tunnel and the incredible people working to make a difference.
That's where the Vest Family comes in. When Haskell and Kelly Vest signed up to host an exchange student, they could've never imagined it would lead to them 3D printing reusable masks to help prevent the spread of the virus.
Haskell is a software engineer and has a side business of 3D printing. When a doctor in Montana sent out a reusable mask design to the 3D printing community, he knew he had to help. Eager to help and get involved was their Italian exchange student, Luigi. The two have really bonded over this, and Luigi has helped build 2 additional 3D printers, as he really enjoys the science behind it.
Kelly said it takes about 6 hours to print one mask, and so far they have received over 45 requests for masks. They have started providing masks to first responders and people at higher risk of being infected. They recently had a local hospital reach out and ask for 15 masks, and they plan on giving a mask to all staff members at a local nursing home hit hard by the virus.
If you are interested in getting involved, you can visit www.makethemasks.com to find local 3D printers in your area, as well as the free design.
We invite you to read more about hosting a foreign exchange student. If you have specific questions about hosting, check out our host family FAQ page. You can also read testimonials from our past and current host families. When you feel ready, complete our host family interest form and our area representative will get in touch with you.
You can also get involved by joining our team of Area Representatives! Help match host families and exchange students and bring the world closer together, while making a supplemental income.